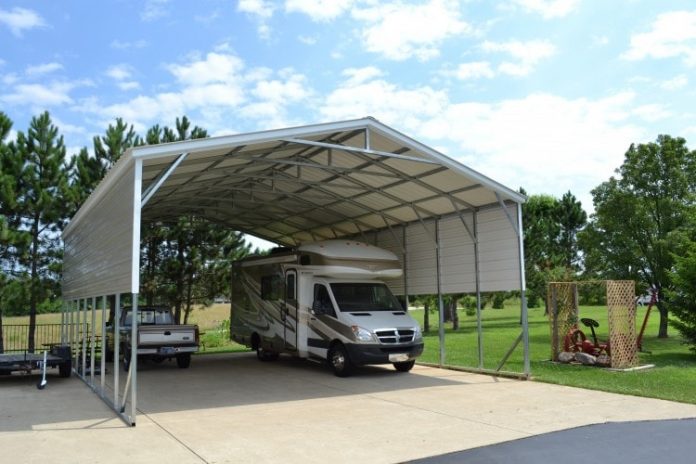 RV Carport – Campgrounds and RV carport lends relaxing and socializing environments with family and nearby campers. Setting up the outside area of your campsite will give your family and friends a place to hang out, eat, relax and enjoy the outdoors.
How to set up an outdoor living space with RV Carport:
If your RV carport has a screen room or awning, set this up first. Or purchase a simple-to-assemble free-standing awning to provide much needed shade.
Heavy-duty RV carport rugs made out of waterproof outdoor material are available and designed to be anchored into the ground to be held in place. Place one right outside your camper door. You can now either sit or walk on it, making it a nice extension of the indoor area.
Assemble furniture in such a way that your items will be convenient to move around and provide you with access to everything stored outside of the camper. This includes moving the picnic table (if provided by the site) to the desired location when you first settle in.
Camp chairs are designed to have the comfort of a lounge chair but take up little room when collapsed. These chairs come in adult and child sizes, are reasonably priced and store in a provided bag. Invest in one for each member of the family.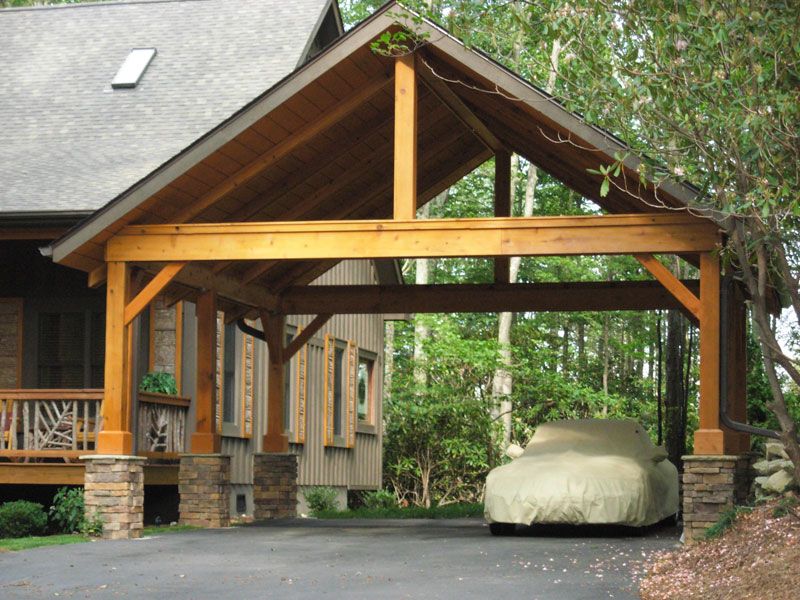 Use small tables as catchalls for books, cups, cans and bottles, or for extra meal seating if you have more people than your picnic table can fit. Having something to rest your drinks on instead of sitting them on the ground will help with sticky spills that can draw bugs and small animals to your campsite. A few small tables outside will make it just as convenient to eat, read or rest outside as it is inside the RV.
Citronella or bug-deterring candles or torches will help light your site at night and keep mosquitoes away.
Decorative lights can be hung around your RV carport or screening to provide additional lighting in the evening and also add a decorative and fun touch to your camp.
Keep a cooler outside with additional beverages and snacks. This will prevent multiple trips inside the camper, which makes it easier to keep bugs and dirt out and the cooler air inside. Larger coolers can also double as a small seat or table for your campsite.
A broom is convenient for sweeping off debris on your camp rug and out of your RV.
An extra trash can and recycling container on the outside of the RV is essential when cleaning up from dinner or sweeping up, or can be used to store cans and bottles. Many campgrounds have recycling stations available as well as trash drop to make it convenient to clean up your camp and have a place to dispose of it. Always make sure your food and beverages are properly disposed of – and check with the camp's staff to find out if you need to bear-proof your items.
Large rugged plastic bins are handy and water resistant storage for kids toys, wood, cooking or emergency tools and much more. They stack easily and are convenient to stash behind your RV.
Now that you've planned properly, you're well on your way to a fun and uncluttered camping trip. Enjoy your outdoor adventure!
Prepare for the Unexpected with RV Carport Kit
Prepare and notify
Thankfully, the couple prepared for the unexpected and stayed dry and secure. Moral: use a camping check list and let someone know where you are. Take cell phones and make sure you have cell coverage in the area you will be camping. If coverage is not available, provide a map of your local and the number of the local police in case of emergency. Our camping couple did both and by day six of the trip, were glad they had.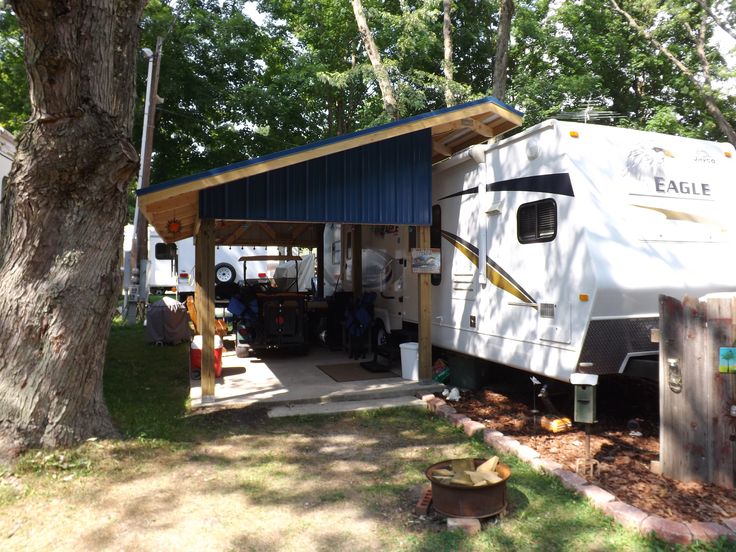 Gone with the wind
On day one of the trip, winds whipping at 40 mph threatened to rip away the popup awning of the RV carport kit. Fortunately, it had been well anchored and the campers took it down before any lasting damage was caused to the awning or the camper. The couple was not so lucky with the portable shower/toilet tent. Though anchored well, the tent could not withstand such high winds and an anchor seam was ripped away from the side of the tent. Lesson learned: take down the portable shower tent in windy conditions. A campfire was out of the question because of the windy conditions, so the Coleman stove was used for cooking – lit with a windproof lighter.
Only wet when it rains
Day two found the campsite wet at daybreak and the rains continued until after midnight. The awning went back up, but it was of marginal use in the daylong deluge. Rain gear allowed for fishing and hiking and, again, the Coleman stove proved invaluable when campfires are not practical.
Day three presented an unanticipated problem when a camper got a fishhook embedded in a finger. A well-stocked first aid kit provided needed supplies. One camper trained in first aid procedures provided the needed skills to extract the hook and medicate and bandage the wound. The sun had yet to shine on the campers on this cool and overcast day.
Hail and high water
Day four brought back the rain accompanied by hail. By nightfall, temperatures were dropping into the 30s. Notified by friends that freeze warnings were posted, the campers prepared for the night and made sure the extra propane tank was ready for attachment if needed. Propane was plentiful, but the couple still woke up cold because the pop up battery died during the night. Lesson learned: the extra battery the campers brought with them was more than worth the effort to bring.
Day five featured more winds and a dead battery in one camper's car. Because someone remembered to bring jumper cables, disaster was averted. Fishing was not an option in the wind so card games and reading occupied the couple as the wind buffeted the camper.
No one braves a tornado
Day six was strike the camp day as friends notified the couple of tornado watches. The camper was taken down in record time and the campers headed homeward, away from almost a week of dry camping in inclement weather. Because they were prepared, only potential tornadoes ended the trip.