Every superlative in the travel writer's dictionary could be thrown at Wharekauhau Lodge and Estate. High above Palliser Bay on New Zealand's wild west coast, Wharekauhau offers spectacular scenery, sumptuous dining and luxury accommodation in a dramatic landscape – but Wharekauhau stands alone as a unique luxury destination.
Wharekauhau Lodge and Country Estate – an Exclusive New Zealand Vacation
It's difficult to know where to begin when describing this exclusive New Zealand hideaway. Difficult also to maintain the writer's neutral stance in the face of a luxury getaway that is both dazzling and dignified in its setting of tamed wilderness and raw grandeur.
While luxury may be the high keynote of Wharekauhau, perhaps the true essence of this unique location lies in its remoteness, its sprawling scenery, its situation in one of New Zealand's finest wine growing regions and its status as an historic working farm.
Luxury Accommodation at Wharekauhau Lodge and Country Estate, New Zealand
Wharekauhau offers a delectable choice of luxury accommodation, with every vantage point offering panoramic views over land and seascape. Evoking the style of an Edwardian country manor the atmosphere in the main lodge at the heart of Wharekauhau, is reminiscent of a bygone age, inducing nostalgia for gentler, more gracious times.
By contrast the ten luxuriously appointed guest cottages located nearby have a more contemporary feel. Neutral colours predominate while natural materials such as hemp, cotton, wool, and clay tiles lend a deeply organic and satisfying ambience. Interconnecting walls between cottages are a clever solution for families and friends travelling together.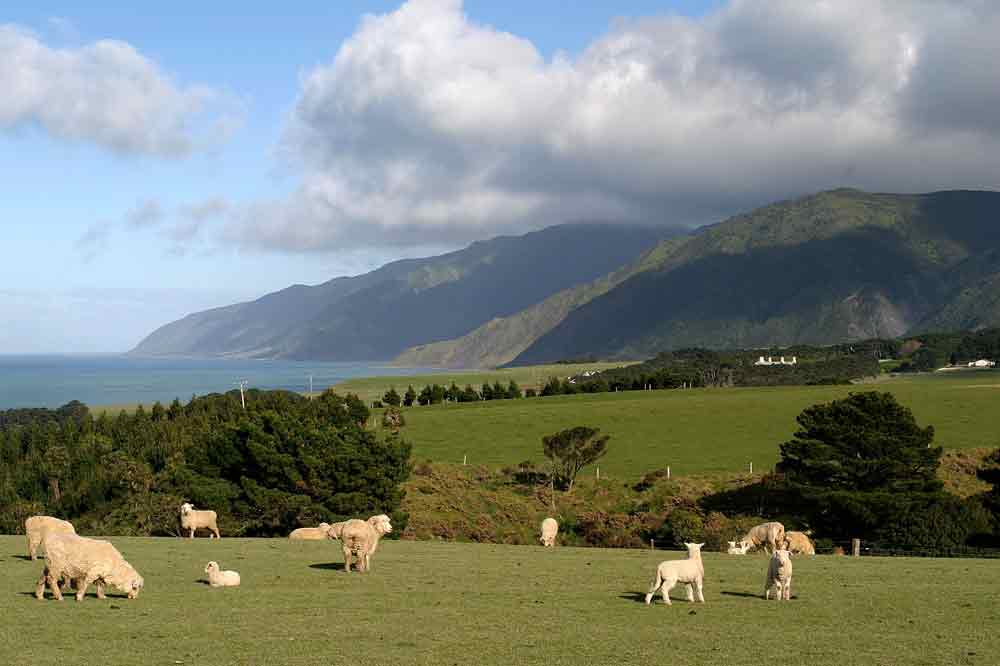 Chateau Wellington is a 4,600 square foot splendidly furnished three-bedroom dwelling. Each bedroom features an open gas fire and en suite with claw foot bath and shower. This luxury home is surrounded with a security wall enclosing private grounds and gardens. A private chef and personal security can be arranged for total privacy and seclusion.
Wharepapa Cottage, with its spacious open-plan design is an ideal family escape. Visitors are advised to provide their own transport.
Wharekauhau Romney Sheep Station is an Historic Working Farm
Wharekauhau is one of New Zealand's oldest Romney studs. Depending on the season visitors can delight in the appearance of 16,000-odd spring lambs or observe the mustering of the entire flock during the autumn.
The intriguing story surrounding the origination of the rowlock-shaped Wharekauhau brand dates back more than 150 years when wool was first exported from the station. With no natural harbour, sailing ships were forced to wait beyond the breakers until the bales stuffed with wool could be ferried out by rowboat.
On the first attempt someone noticed that the bales were not marked with any symbol that identified them as belonging to Wharekauhau. A solution was quickly devised. The rowlock, dipped in paint, was commandeered as a distinctive brand and smartly applied. In the 21st century the rowlock brand continues to stamp Wharekauhau enterprise.
Hiking, Horse Trekking, Touring the Vineyards and Adventure Activities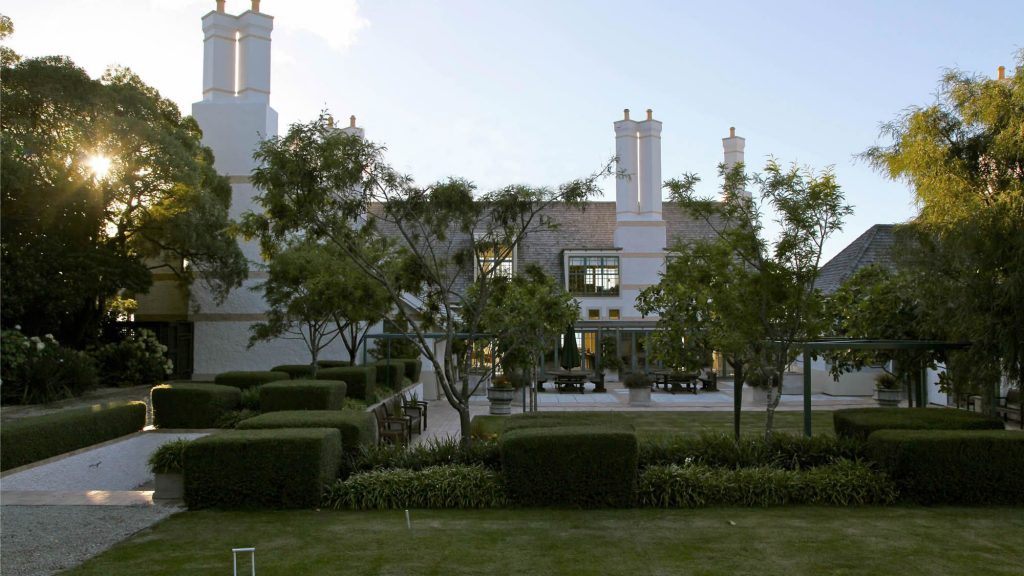 One of the chief attractions featured in reviews on Trip Advisor (eight reviews: six excellent, two very good) is Wharekauhau's remote location overlooking the rugged seascape and black sand beaches of Palliser Bay on New Zealand's west coast. Just 15 minutes by air from New Zealand's capital city, vast areas of private rural landscape allow ample scope for an adventurous selection of outdoor activities.
Appealing to all the senses are walks through fragrant New Zealand podocarp forests accompanied by the song of native birds, or along the coastal trail where the smell of the ocean, the sting of salt spray and the crunch of sand underfoot hits those primal nerve-endings. For more challenging adventures try jet boating, a spin on an ATV quad bike, horse trekking, clay target shooting or racing on a purpose-built Mercedes track.
If none of the above appeals, how about a trip to the North Island's largest native fur seal colony, a tour of local vineyards and boutique wineries or excursions to the South Island to watch whales and swim with dolphins. And of course, there's always the indulgence of a pampering spa treatment, a swim in the heated pool, or simply lying back and luxuriating in Wharekauhau's unique environment.
Among numerous other plaudits Wharekauhau – pronounced furry (as in hurry)-ko-ho – was voted one of the world's very best holiday resorts in the 2008 Condé Nast Readers Choice Awards – although, at least for this writer, 'resort' seems too slight a word for this masterpiece of working farm and luxury estate where every need is catered for.
Wharekauhau is presently offering a 'Stay six pay five' package in association with Treetops Luxury Estate near Rotorua. Contact: Wharekauhau Lodge and Country Estate, Western Lake Road, Palliser Bay, RD3, Featherston, Wairarapa, New Zealand. Ph: +64 6 307 7581.