Living in the United States means having exposure to a myriad of opportunities. Tens of thousands of people from around the globe travel to America yearly, either for business or a pleasurable vacation. Some people choose to move to the U. S. to make it their new permanent home. America is known as the melting pot not only because of the diverse population, but also because everyone has the advantage of making a better life for themselves.
Many immigrants who want to be a part of the lifestyles afforded by the country are often met with oppositions because they do not understand the procedures necessary for them to be able to live comfortably in the United States. The country has certain guidelines set up for immigrants to follow in order for them to be capable of getting a job, and earning money for survival. Every citizen of the United States has a social security number which is important for many aspects of American life. When a person moves into the United States hoping to make this their permanent home, these guidelines must be followed for a smooth transition.

Getting the required social security card is essential because it identifies, and sets you apart from everyone else. You do not have a place in the country without it. This nine digit number is necessary in order to work and get paid a salary, get benefits, get medicare and other government benefits, and to get a United State's driver license. If an immigrant decides to take a job without having a social security card, they take the risk of having their money withheld from them, and getting released from the job without pay. This has happened to many people who were not aware of the process of becoming a valid member of the American population.
The Social Security Department and Immigration Services have teamed up to allow immigrants to apply for their United States social security card along with their application for a Visa. This new system cuts down on much of the hassle that was once encountered when trying to get a social security number. Normally, if the application is successful, and approved, the social security card will be delivered to the patron in as little as three weeks.

If the immigrant did not apply for the social security card along with the visa application, they can apply for it separately. Applying is easy, and just involve a few steps. The first step is to get all of the pertinent documents together, and have them ready when going to apply. Before going to the nearest social security office, it is vital to have the following documents.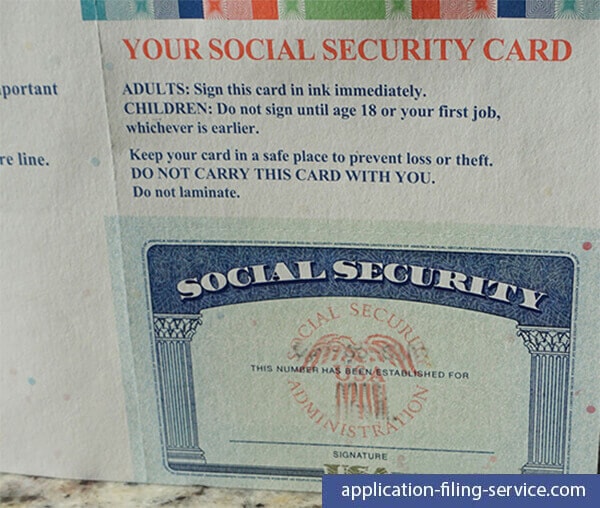 Have all of the documents that were received from the United States Department of Homeland Security. These documents were necessary in order to enter the United States as an immigrant.
The application form for the social security card, filled out if possible. It will help expedite the application interview.
Two documents that will verify your identity. These must be original documents such as a driver's licence of a passport.
A Birth Certificate is a most important document for this process.
All of these documents are required in order to apply for a social security number. If any documents are missing, the procedure could be held up, and time is of the essence at this point. The application process has been known to take up to a year because of insufficient paperwork. Some immigrants have had to get documentation of relatives or friends who are residents of the United States for verification purposes. Doing this means that everyone had to be verified which caused a great delay in the determination of approving the application. Many social security card applications had to be resubmitted due to the immigrants not having advise on the proper procedure.

The application form is the social security SS-5, and can be downloaded from the social security website, or obtained from any social security office. If the person applying for the number is unable to take the application in person, they can mail it to the local office. All documents must accompany the application. The documents must be the original, and not a copy. The documents will be returned to the applicant if requested.
A self addressed, stamped envelope should be with the application and documents if they are to be returned. This service is offered at no charge, but many people have been taken in by websites that charge for handling this procedure. If doing the application online, be aware of unnecessary fees. If the immigrant has family or friends in the United States, getting their assistance on this matter is recommended.

Social security cards for dependent children and spouses can be obtained at the same time, or they can wait until a later date as long as they are not planning on working in the United States. Non working immigrants with a head of family applying for a social security number do not necessarily need one right away, although it may be needed in the future. If for any reason a replacement social security card is needed such as a lost or stolen card, getting it replaced can be a simple process.
United States citizens can get a replacement by going online if they are over the age of 18, and have a valid address in the United States, a driver's license or state issued identification, and no name change is requested. For those who do not have citizenship status, all of the required documents need to be seen in person at the local social security office when applying for a replacement card.

To avoid having to apply for a social security card more than once, follow the above steps to get it done correctly the first time. An immigrant looking for a new home in the United States should immediately apply for a social security number so that they can began to enjoy all of the amenities that comes with being a United States resident. The steps are easy to follow, and the paperwork should already be in the applicant's possession when they arrived in the states. Be legal, and get all that is required to live in the land of the free, and enjoy all that America has to offer. Most of all, remember that applying for a social security card is a free service that no one needs to pay for.