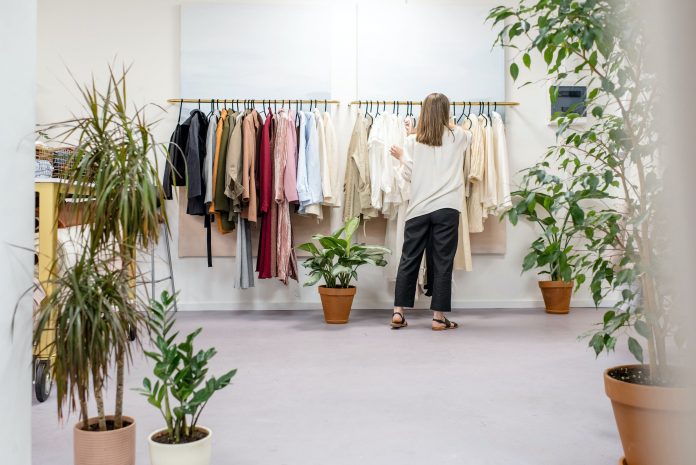 Consignment clothing stores are springing up everywhere and with good reason. They're profitable. The overhead is low because the shop owners don't have to make any inventory purchases. They are actually selling for others.
Looking at Costs to the Store Owner
Research well before beginning. Develop a business plan and put it all on paper. Include start-up costs and monthly overhead. Consider rent, phone, hydro staff wages and business taxes. Start-up costs could include store fixtures, shelving, cash register, signage, repainting and decorating.
Consignment Clothing Store Location
The term "location, location, location," is not to be sneezed at. Pick a thriving or up-and-coming neighborhood. The busiest clothing consignment shops are on main streets where there are a lot of galleries, antique shops and funky coffee shops. These streets draw the young and hip who'll likely be patrons. A fast-food restaurant or a gas station on either side may not be the perfect spot. If there are other consignment stores or thrift shops nearby, this is a good thing as thrifty shoppers are already drawn to the area.
Consignment Clothing Store Policies
Every clothing consignment store owner has her own policies, but there are a number of things to consider.
Most shop owners take 30% to 40% of the retail cost of the item. (Please see comment below. The percentage the shop owner takes depends on her costs, primarily. Los Angeles or New York City may be costly to run a consignment shop. There are many variables. New shop owners should research demographics to find the percentage that will work within their budget.)
If the shop is in a hip and funky neighborhood, consider carrying only designer fashion or good quality resale clothing. Designer fashion will bring in a higher revenues than a store filled with $3 tee-shirts.
Consider a selling period for the item.
Record Keeping
An account book listing all consignees with their data is key or being organized. Assign a number to each consignee account. When they bring in new items to consign, list them in the account book and add the number to the price tags. When the item sells, add the details to consignee's account file. Consignment software will replace the hand-written system.
Offer payment once a month, perhaps the first or middle of each month for sales made the previous month.
Consignment Store Software
Consider purchasing consignment software to keep track of everything on the computer. Consignment store software will make the store owner's business hassle-free. Even the technically-challenged will find consignment software a valuable addition to their business. There are a huge number of companies selling their own versions of consignment store software and it's best to research them all to find one that suits the store owner's needs.
Tips for Running a Retail Outlet
Open the consignment store only with a full inventory, and when it's completely ready for the public. Make a good impression from the start. A store with boxes everywhere, and empty racks and shelves won't do that. Begin requesting inventory via "Opening Soon" ads in local papers well in advance of store opening and hold the goods until the decorating is finished.
Work together with consignees to come up with a fair retail price for every item they offer. Keep in mind, these items are resale clothing, so patrons will expect a fair price.
Treat consignees with the same respect you treat customer lifetime value. They are the life blood of the business.
Display the inventory sensibly. Give each item type its own section.
Change window displays weekly. There are two reasons for this. One is that items sitting in a sunny window too long will fade. The other reason is simply keeping it fresh, so passers-by can see there is always new stock.
Dust, sweep and clean the store regularly. Pick clothing up if it falls off its hanger. Keep the aisles clear of boxes. Major merchandising and re-organizing should be done when the store is closed. Housekeeping is as important in a retail outlet as it is at home.
Advertise the consignment store in print and on the internet. There are many ways to market the business.
Running a consignment clothing store can be fun and will offer a good living to the owner if the shop is managed with care. Build a reputation with quality items, fair prices and excellent service, and customers and consignees will return again and again. They'll also spread the word.