Wedding shoes have a rather interesting history. Did you know that some brides in the past wore boots on their most blissful day? These shoes have been known for romance, royalty, and a hint of rebelliousness.
What to Look for in Wedding Wedges
Wedding shoes or wedges will be rarely visible when you walk toward the altar. Be that as it may, they will be seen one way or another. You can even bet your bottom dollar that your guests will try to get a peek at your Badgley Mischka shoes at least once. Even your future father-in-law may take a gander at it too. Remember that your shoes should be the highlight of your wedding outfit.
The big question is, how do you find the right wedding shoes? Consider the tips that we have below.
Don't Be Afraid of Some Color
Wedding gowns are usually white—or some similar hue. White is the classic or clean hue, which is also symbolic of the purity of the bride. However, that doesn't mean that you have no other choice but white.
Fashion designers today suggest adding some colour to represent your very own personality. Trends today suggest some metallic colour highlights on wedding shoes. It's a playful twist and it is meant to catch the eye.
Remember that people won't notice your wedding shoes since they are usually hidden from view. With the right metallic or other colour highlights, your wedding shoes will steal the guests' attention briefly and will draw some much needed admiration.
Remember that wedding flats, wedges, and boots have a slight rebellious tradition. Adding some colour to the traditional white tweaks that tradition to a certain degree.
Do You Dare to Bare?
Depending on how your tailor or dressmaker has designed your gown, your shoes will sometimes be very visible to the public or almost hidden from view. What if your gown allows everyone to see your shoes?
If that is the case, you should find a pair of wedding shoes with that timeless appeal, especially to women of fashion. Not only should they match your gown, but they should also be glamorous.
Talk to your dressmaker and ask about specific design details of your gown. You should then ask for matching design options that should be on your wedding shoes. Ask about colours, colour contrasts, laces, and possible highlights that you should be looking for.
Gather a lineup of potential matches. Find the ones that you really like and narrow down your options to the top three. After that, go back to your tailor for approval.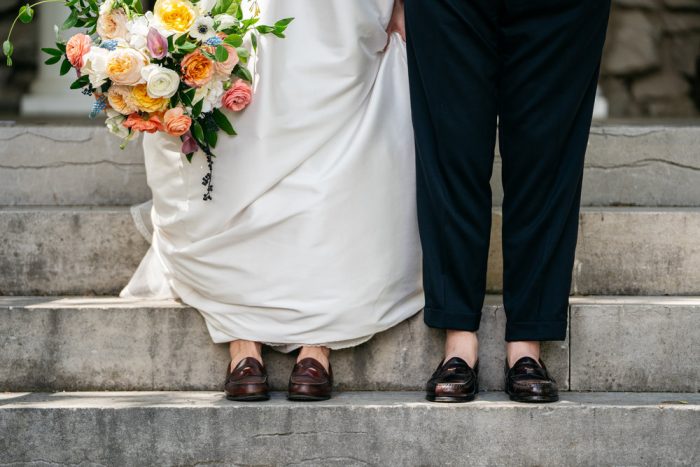 Shoes That Remain Hidden Most of the Time
Another option is for your shoes to be hidden under your gown most of the time. If you have the luxury of hiding your shoes from view, your main priority should be comfort and practicality.
You won't be wearing wedding wedges only when walking down the aisle. Remember that you will have to put them on at the reception, where you will be expected to dance and mingle with the guests for several hours. If that is the case, choose more comfortable footwear.
Buy from Top Brands
Is it possible to buy from top brands like Badgley Mischka Shoes and others without breaking your wedding budget? You might be surprised to know that the answer is yes. High-end wedding footwear is a worthwhile investment. Apart from that, you can even wear them for other formal occasions and functions. Who says you can only wear these shoes on your wedding day?