The eyes are often referred to as the windows to the soul, and for a good reason. Choosing the right color eyeshadow and using the best techniques not only draws attention to the eyes but can also alter the way a woman is perceived. Test out these tips from leading make-up experts and let inner beauty shine through.
Blending with Bobbi Brown
Bobbi Brown shared her secrets with MSNBC's Today show and recommends a tried and true trick for adding that extra glow. Dust a light coat of eyeshadow with an eyeshadow brush over the eyelid and up to the eyebrow. Next, apply a darker color on the eyelid itself and the darkest color into the crease.
Mally Roncal Talks Sexy
Mally Roncal knows a few tricks about choosing sexy eyeshadow. Her advice to Style List.com was simple: metallic colors are the best for creating an alluring look. For a hard day at work she recommends her Evercolor Shadow Stick. It's easy to apply and strong enough to last all day without smearing.
Joanna Schlip's Dramatic Eyeliner
Joanna Schlip recommended to Physicians Formula a simple trick for dramatic eyeliner. Wet a favorite color of dark eyeshadow and apply to the eyelash line for a daring look.
Smoky Eyes with Kevyn Aucoin
Kevyn Aucoin knows several tips for creating the coveted smokey eyeshadow look. On his website he recommends smudging a dark eyeliner across the eyelids and working back over it with dark eyeshadow. A few strokes with an eyeshadow brush is all it takes to finish up this look.
Laura Mercier Intensifies Color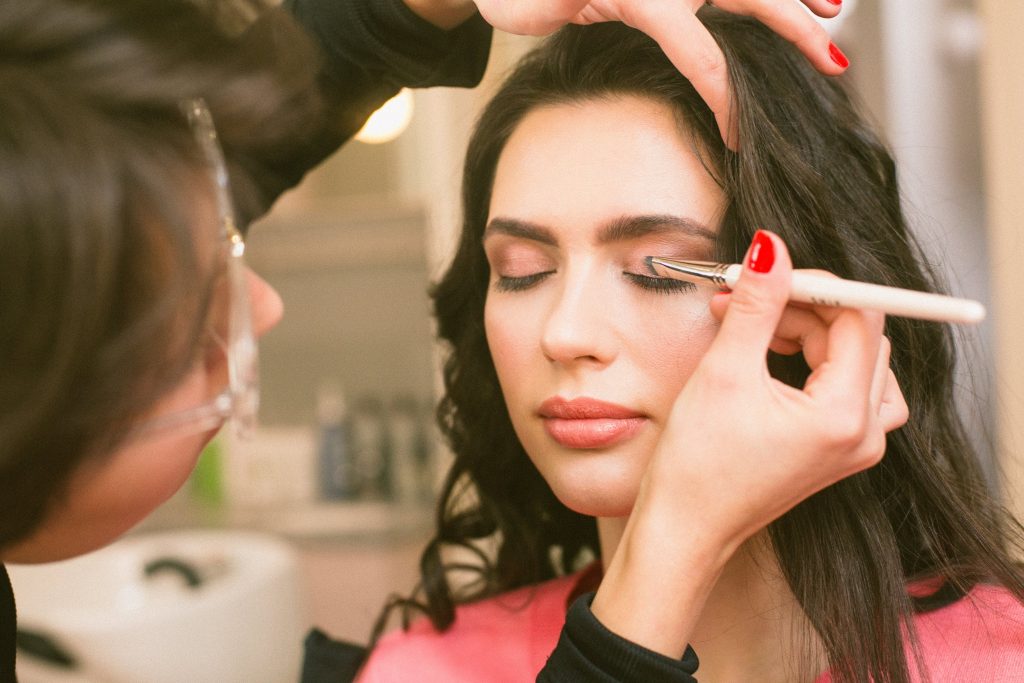 Laura Mercier knows that even with the best techniques a woman's eyes won't shine without the right colors. On Life123 she advises those with brown eyes to use grays, blues, and browns while avoiding yellowish brown. Those with blue eyes should stick to peach, gray, and blue while steering clear of green. Finally, those with green or hazel colored eyes will want to use pink, green, and gold but avoid bright green.
Finding the Best Tips & Tricks
Not all colors or techniques work for every woman. The key is to experiment and find what works and what doesn't. Being a little adventurous can lead to some surprising discoveries, such as a new favorite eye shadow color that really opens up the eyes and the face. Purchasing quality make-up products and supplies, such as eyeshadow brushes, is also important for longer lasting eyeshadow with a more vibrant and smooth look.
The Smoky Eyes Look
The smoky eyes look is one of the most sexy and glamorous makeup looks for women. If done right, smoky eyes gives women the look of mysteriousness with a bit of an edge. But smoky eyes are not all about black eyeshadow and liner. There are many ways to create the smoky eye look with colors such as gray, copper or even teal.
How to get Smoky Eyes
Instyle describes the smoky eye look as one of the top makeup trends for Fall 2009. But many women may have trouble making the look appear natural. The fear is that smoky eyes will look like black eyes. In addition, women may fear that too much black around the eyes is too provocative. However, as with any application of makeup, choosing the right tools and colors can help with a successful smoky eye look.
To create smoky eyes, understanding the final look can help. In the September 2009 issue of Allure, makeup artist Diane Kendal states that applying many layers of black to the eyes is not the way to achieve the look. Powder eyeshadow in shimmery grays along with a creamy black eyeliner are better choices for smoky eyes. Furthermore, it is imperative to blend the colors, so that the look is natural. Allure achieves the smoky eye look in 3-steps:
Line the eyes
Add Shadow
Blend
Tips for Flawless Smoky Eyes
First, use a creamy black liner to line the upper and lower lash line from the outer corner inward. Make sure to hold the pencil as close to the last line as possible, using short strokes. Second, use an eyeshadow brush to apply a shimmery gray eye shadow to eyes. Begin at the outer corner and use light strokes. Blend the color to the eye crease. Third, using the remaining color on the brush, blend from the eye crease to the brow bone. Place the brush in the shadow once more, and apply to the eye crease using a sweeping motion.
It is important to always tap excess powder from the brush prior to applying to the eye. When excess powder falls under the eye, it can cause the black eye effect instead of the smoky eye effect. In order to prevent this, place a tissue under the lower lash line to catch any additional excess powder during application. To complete the smoky eye look, use a black mascara on eye lashes. And to keep the emphasis on the eyes, finish off with a soft pink blush and a nude or pink lipstick or gloss.
The smoky eye look is one of this year's most popular fall makeup trends. This look is not limited to lots of black around the eyes. When applied correctly, smoky eyes can enhance a woman's beauty and portray an illusion of excitement and mystery.