Vintage arcade games – With millions of online computer games out there it is hard to find ones that are free, fun, from trustworthy websites and with nothing to download. This list of sites details where avid online gamers can find the best computer friendly and entertaining vintage arcade games to play. All these sites are free to use, with nothing to download to play the games and are fully packed of brilliant games!
2DPlay for Hundreds of Free Vintage Arcade Games
The online gaming website 2DPlay has hundreds of vintage arcade games in a plethora of different categories. There are sports games, shooting games, arcade and retro games, puzzle games, adventure games and many more. As well as many new games 2DPlay also hosts some truly classic games such as Crazy Pool, Mini Putt and Jewel of Atlantis.
2DPlay is a trustworthy site with a solid reputation. The games load quickly, are free to play and do not require the player to download the game or any software to play it. The only down side to 2DPlay is that due to the games on the site being free it is full of adverts for other sites and a few pop-ups. However, they are not constant or too annoying and definitely worth putting up with for the fantastic free games.
Zynga Games on Facebook including Farmville
The Zynga website and games are very popular worldwide for vintage arcade games. Their online games, including Farmville, Mafia Wars and Cafe World, have taken the internet by storm. The games are mainly real time games that can be played over months and years with many tasks to complete and share with friends, as opposed to the quick fire arcade games of 2DPlay.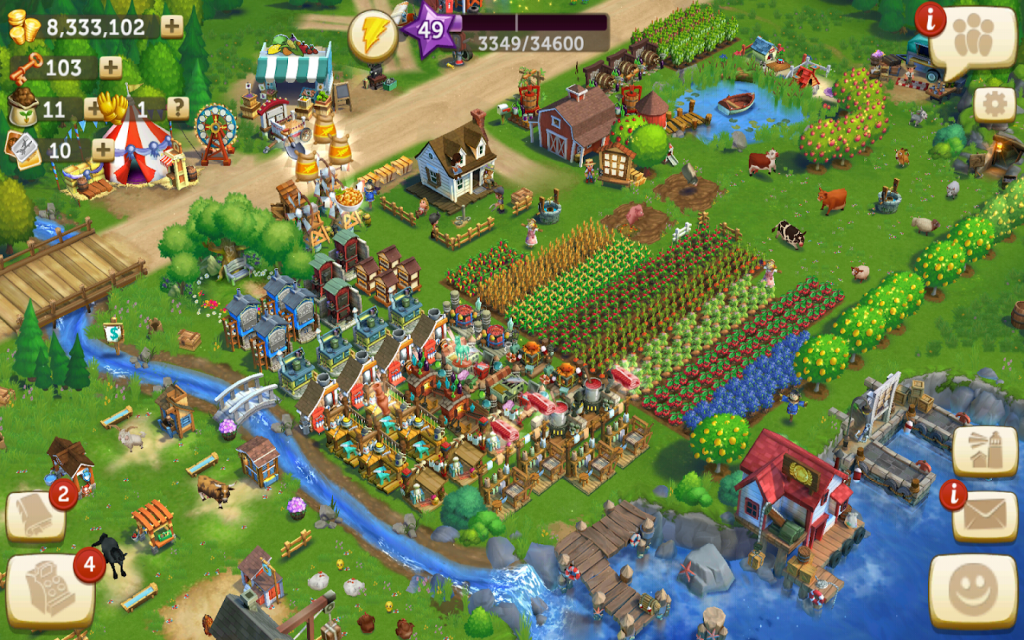 The games Zynga offer up can be played through their website or on the social networking sites Facebook and Myspace, in which the players social networking friends can join in and help the player complete tasks and gain experience etc. Zynga games cost nothing to play but extra options such as cash on Farmville can be bought. Zynga is also a registered company and a trustworthy online gaming site.
Play Free Games Online at Miniclip
Miniclip is a website similar to 2DPlay in both content and layout. This site features hundreds of vintage arcade games in a variety of categories including shoot them ups, sports games and a good selection of multiplayer games. Again like with 2DPlay the games are all free and can be played online with nothing to download from the site.
Miniclip does have its differences from 2DPlay however. On the positive side there are no pop-ups and the graphics could be said to be, on the whole, slightly better. The playing screen is also a more desirable size. However, 2DPlay is easier to navigate, with more clear categories, and although the 2 sites games are very similar 2DPlay has more recognisable titles compared with Miniclip.
Astro Wars – Free Online Space Strategy Game
Real time adventure quest, strategy games are all the rage to buy or download but finding a good, free, web-based, real time adventure game is difficult. Astro Wars is one of the most popular vintage arcade games. Players can register for free and play from any computer as there is nothing to download. Players start on the edge of the galaxy and have to complete tasks and take over planets throughout the galaxy.
The website can be used in many countries, can be played with friends from multiple computers and the website also combines a forum for chat about the game and tips from other players. Astro Wars is a safe game and website but is highly addictive and can be played for hours on end!
The forum part of Astro Wars is one of the best and gamers can understand pros and cons of levels easily here by chatting with other players. Try to remain active there if you like playing the game. Many top players have understood strategy of the game from the forum.
The forum is trustworthy but it is suggested not to get influenced here by spam information like how to increase level by applying short cuts or buying a software to do so.
Pop Cap Games for Classic Bejeweled Game
Pop Cap Games is home to one of the most addictive and fun games of all time; Bejeweled. Pop Cap is a trademarked company and the site is completely safe and free of pop up adverts. The game can be played on Facebook games, downloaded to a phone or computer or just played in the Pop Cap website for free without any downloading.
This list of online gaming sites will offer any avid gamer a huge and varied selection of free, web-based and safe online games. From retro arcade games to full length quest games there is something for any gamer. With nothing to download and no costs these games can be played from any computer and for many, many hours!