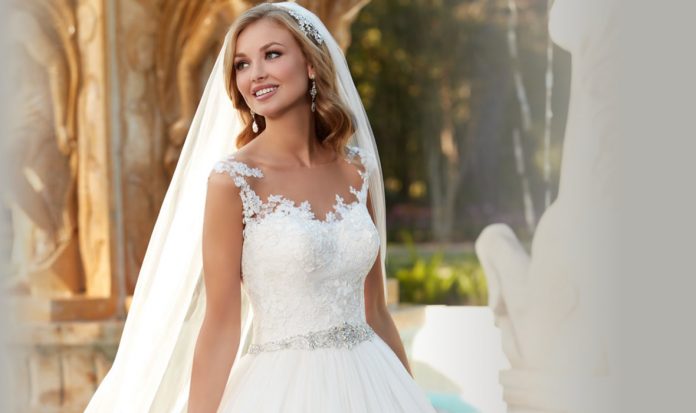 What should a older bride wear for a second wedding? Can I wear a white wedding dress for my second marriage? These are few questions that arise for couples who are going for a second marriage.
Nothing is more fun for some women than looking at bridal magazines and fantasizing about one's big day, or one's second big day, or one's third big day. And, all those cheeky, brazenly colored wedding dresses that they're wearing in Europe; what about those?
Second Wedding Dresses
Is it acceptable to wear a white dress as a second wedding gown? Well, it depends upon how persnickety one's friends are. Most people are so happy to see one of their girlfriends celebrate the beginning of a new life with her new man, that they don't notice what the bride is wearing unless it's black.
However, here are the formal rules, just in case a girl has:
A wealthy relative who is quite generous, but formal and old fashioned.
A large family of women who might spread malicious gossip all around her small town.
A contingent of cousins who will be shocked if a woman wears white after living with her fiancé for 5 years and having 3 children.
A group of paparazzi outside her house.
Proper Etiquette for Second Wedding Dresses
Most second time brides live in a world where wearing white or some other almost pristine-white color is quite acceptable. In that world, guests are overjoyed to see the beautiful bride (in any color) because they know that soon they'll be through with the wedding ceremony, and off to party and to boogie-on-down with the bride and groom.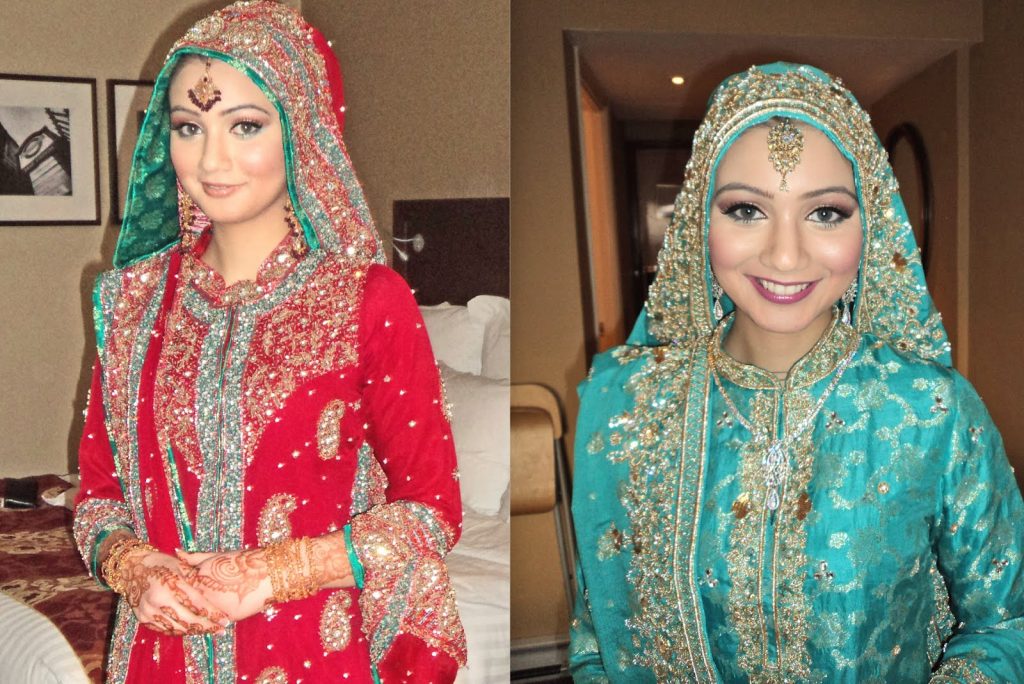 If proper etiquette is high on the list (though in the wealthier classes no one really cares because they are above the rules), here are the oh-so-correct ways to play the second marriage game.
A divorced or widowed woman should/could wear:
A pastel suit
A long pastel second wedding dress (floor length or shorter, no train or short train)
A white, off-white or cream colored short wedding dress
An ecru, champagne, or light colored dress
Pearl earrings and/or necklace
A wedding hat, but never a tiara or a veil of any kind
Second wedding gowns should be elegant and, unlike a Cinderella-style ball gown, demure, understated, and tasteful.
Colored Wedding Gowns
Actual wedding gowns in bridal shops (online and on-street), now come in every color. Many modern first time (second time, third time) brides are wearing:
Red Wedding Dresses
Orange Wedding Dresses
Pink Wedding Dresses
Yellow Wedding Dresses
Purple Wedding Dresses
Green Wedding Dresses
Blue Wedding Dresses
So any woman (first time bride or not) can choose to wear something quite trendy, as well as flattering to her complexion.
Meaning of Colors
All colors have a special symbolism in different cultures and from different times. Maybe a second time bride should take that into consideration if wavering between two great dresses.
Green was once a proper bridal color, as it symbolized fertility in pagan Celtic cultures. Later it was banned in some Christian weddings, though a famous 15th century wedding portrait, by Flemish painter Jan van Eyck, shows green to have been a proper choice for brides at that time.
Red has been proven to increase one's heartbeat, and men are attracted to women in red. In Hindi and Buddhist cultures, red is a symbol of luck.
Pink roses represent grace, elegance, and admiration. And, every woman knows some shade of pink that will flatter her complexion.
Blue signifies constancy, as in "true blue".
Anything that the bride loves for her second wedding dress fantasy is perfect for almost any wedding. It's her party and she gets to wear something beautiful.
Black Wedding Dresses, Gothic or Gorgeous?
Modern weddings do not have to conform to tradition and even though the vast majority of brides still choose white or ivory for their wedding gowns, wearing a colored dress is a definite way to make a bold statement. Relatives may stand and stare in shock, thinking they have come to a funeral rather than a wedding, but wearing black is not as scary as it sounds.
Celebrities like Sex in the City's Sarah Jessica Parker and Grey's Anatomy's Ellen Pompeo wore black on their wedding day. While Sarah Jessica Parker has since gone on record to say she regrets wearing black; at the time, it felt right.
Why Choose a Non Traditional Black Wedding Dress?
For many women, black is their favorite color and the one they feel most comfortable wearing but there are numerous other reasons to choose a black gown:
The right black dress can look simply stunning, especially if accessorized with other colors like red. Think style not wedding when searching for the right dress.
Dark colors can hide curves and bulges, making a bride look slimmer, perfect for a maternity bride or a larger lady.
Certain fabrics like lace look equally beautiful in black or white, especially when mixed together; perfect for a Spanish style Quinceanera dress.
Black may suit a woman's complexion far better than traditional white, which can make a bride look pale.
Black bridal gowns are usually much cheaper, after all they can be purchased almost anywhere; mainstream dress collections or prom stores are a good place to start.
Also, accessories will cost less and shoes should be easy to find when half of all footwear ranges are made in black.
Most importantly, a black dress can be worn again making it an economical investment.
Gothic or Vintage Wedding Dresses
Black dresses suit themed weddings like a gothic style event or a wedding taking place over holiday periods like Halloween. Vintage weddings also go hand in hand with dark colors especially as, in the past, it was more traditional to wear blue or black rather than modern day white.
Plus remember that many brides will not be walking down the aisle in a black gown; rather they will be taking their vows at a civil ceremony where a short little black dress may be the perfect choice.
Colored Wedding Dresses
A bridal gown does not, of course, have to be all black. Mix black with white or white with black, add a splash of red or any other color to show your own particular style.
While wearing all black may be considered outrageous, especially at a church wedding, both the bride and her dress will be remembered for a long time afterwards.
Tips on Wearing a Black Bridal Gown
Be sure to wear soft, subtle make-up that enhances the complexion rather than heavy black eyeliner and red lipstick, unless a real gothic look is desired.
Have fun with accessories; consider dressing the groom in white and putting bridesmaids in white frocks with black sashes.
Plan a winter wedding in a snowy environment, the perfect venue to showcase a black dress as it won't blend into the scenery.
Wear a Non Traditional Wedding Gown
Confident brides may choose style over tradition when it comes to wedding dress color. Wear a black bridal gown if it feels right and have fun making a bold personal statement on the big day.