Undoubtedly shooters are highly competitive whether you are playing Overwatch, CS:GO or PUGB. A good gaming gear is definitely required to compete and the most important accessory to must-have of high-end is FPS gaming mouse apart from a reliant keyboard and of course a zero delay monitor. These help in performing at high levels.
Here we will discuss about good FPS mouse and taking a look is important for all gaming fans who want to enjoy a lot of different genres.
Let's a have look to the best three FPS mouse currently available in the market and those are BenQ Zowie EC2-A/EC1-A, Logitech G Pro and Razer DeathAdder Elite. These mice are being used by pro-gamers.
BenQ Zowie EC2-A/EC1-A

Many may not know but gaming lovers love this FPS mouse as it is one of the best and most popular. It features Plug & Play, 400/800/1600/3200 DPI adjustment and the adjustable report rate is 125/500/1000 Hz.
Considered as top FPS mouse, the BenQ Zowie EC2-A/EC1-A is equipped with pro-level tracking and precision having mechanical switches on side buttons. On the pro-CS:GO scene it is one of the favorites as it comes with an inch-perfect sensor. Apart from awesome ergonomic design the mouse has outstanding lift-off distance. Many believe it is a near perfect competitive gaming mouse.
However, there's a bit difference between EC1-A and EC2-A. EC2-A FPS mouse is a bit smaller in width and length compared to the sibling. This mean it is made to fit in good grip for small hands as well as big hands.
No product is built without a down side and so the series of BenQ EC too. Both the mice do not sport RGB, snipe button and other such cool features. Irrespective of the cons it is a great gaming brand and the manufacturer has focused 100% on performance and feel of it.
Both the mice are perfect for getting better as a gamer and gradually stepping up and up in levels, towards the toughest one. Thanks to Pixart 3310 sensor used that ensures inch-perfect precision and tracking whilst gaming. The side buttons comes with use Huano blue mechanical switches and not membrane to offer outstanding tactile feedback by eliminating misclicks.
Apart from all these both the mice are hardy and sturdy. In terms of ergonomics it is different from other gaming mice offering a good palm or claw grip.
Verdict
It is a no-nonsense FPS gaming mouse offering stellar performance and is highly ergonomics. It is essentially the best ideal plug-n-play mouse to truly improve gaming performance.
Logitech G Pro
The Logitech G Pro too is one of the most popular mice for FPS gamers featuring 100 to 16,000 DPI range, Metal spring button tensioning system, Optical Hero sensor, customizable LED colors, Six programmable buttons, Zero filtering, smoothing, and acceleration.
The metal spring button system in the mouse creates ultra reliable clicks and it is ideal for pro gamers as well as casual gamers. It comes with pixel-perfect accuracy and a must-have for gamers who are looking to be competitive in the gaming world.
Sporting PMW3366 optical gaming sensor, the Logitech G Pro delivers some of the best traction and it is said to be just being a fantastic sensor mouse by many. It offers more reliable clicks than ever and thanks to the metal spring button tensioning system for the job.
In terms of design the mouse looks pretty great but not quite as ergonomic as the G502. However, for claw grippers this is the best FPS mouse currently available in the market. It is slick and simple. It is beautiful and aesthetically pleasant. For those who are used to bigger mouse may feel it odd initially and this is the only downside of it.
Quality is superb and best for Logitech fans. It allows creating of custom profiles for different game types
Verdict
Reasonably priced tagged, the G Pro offers awesome quality, stunning visual treat and unparalleled tactile feedback. It is highly recommend to pros as well as to novices in FPS gaming.
Razer DeathAdder Elite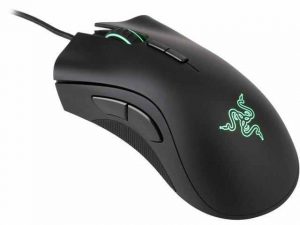 It is said to be the most precise sensor in the world featuring up to 16.000 DPI, 5G optical sensor, up to 450 IPS with 99.4% resolution accuracy, adjustable LED colors and durable up to 50 million clicks.
The Razer DeathAdder Elite comes with high-end claw grippers and sports amazing speed. For all the pro-gamers it comes under the top five category of FPS mouse and there's clear reason to it.
The mouse has a pretty look with LED lighting. It excels at almost everything and anything and comes with more horsepower in terms of speed and acceleration. It is highly customizable equipped with tons of LED lighting options.
However, do take a sweet note that it is not only made for fps gaming, but can be used for all purpose. It is so astounding and insanely popular.
Verdict
The Razer DeathAdder Elite is highly recommend FPS gaming mouse and can be equally used for other purpose.
Do pen down your feedback about these three FPS gaming mice in the below given comment section as the list is hand-picked with user rating on several websites and forums including feedback from Amazon pages. The list is not in series.